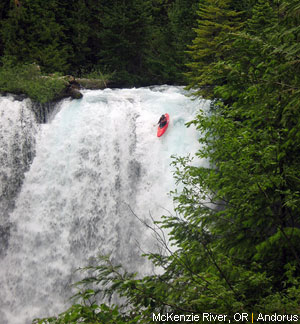 This holiday season, instead of visions of sugar plums dancing in my head, like many people in Washington and around the nation, I'm having nightmares about plunging over a cliff, the fiscal cliff. Unless President Obama and Congress reach a deal before the end of the year to avert taking the nation over the fiscal cliff, automatic spending cuts, known as sequestration, will go into effect. These across-the-board cuts to federal programs could have devastating impacts on rivers and
clean water
.
Sequestration would result in cuts of millions of dollars to programs administered by the
National Oceanic and Atmospheric Administration (NOAA)
to restore fisheries like salmon and steelhead. These programs have been responsible for highly successful river restoration efforts across the nation, where
obsolete and unsafe dams
are being removed to restore free-flowing rivers for fish, wildlife, and cities and towns that benefit, environmentally and economically, from the clean water and outdoor recreation opportunities provided by restored rivers. On Washington's Olympic Peninsula,
two 100-year-old dams on the Elwha River have been removed
, restoring 70 miles of habitat for salmon and steelhead, and in the process restoring a fishery on which the Lower Elwha Klallam Tribe has depended for centuries.
This holiday season, instead of visions of sugar plums dancing in my head, like many people in Washington and around the nation, I'm having nightmares about plunging over a cliff, the fiscal cliff. Unless President Obama and Congress reach a deal before the end of the year to avert taking the nation over the fiscal cliff, automatic spending cuts, known as sequestration, will go into effect. These across-the-board cuts to federal programs could have devastating impacts on rivers and
clean water
.
read more